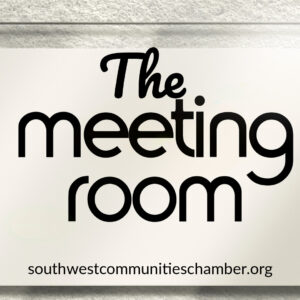 New! Welcome to The Meeting Room
The Meeting Room is the South West Communities Chamber of Commerce brand new online match-up program. The Meeting Room helps members meet online with other members to help expand their network through a precise method of joining companies whether similar in industry, contacts or personalities to help grow their client base. We highly suggest that you meet with each member match twice. The first as an 30-minute introduction and to pick topics to discuss in your second meeting.
The focus of The Meeting Room is to help build relationships and not to focus on sales. The chamber will include conversation starters to help you learn more about the other member and get to know one another. Join another member in The Meeting Room by emailing mandi@southwestcommunitieschamber.org. You will be sent three selections of which to choose from and our director will help you to initiate contact and set up an initial meeting.  Get ready to make new connections in The Meeting Room.