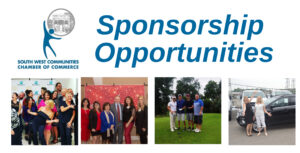 Give Your Company Some Community Attention with a South West Communites Chamber Sponsorship. Sponsorships are a great way to present your company to our members and guests and friends of the chamber, plus you will be helping the chamber continue to support local businesses in our region. Please send all sponsorship inquiries to mandi@southwestcommunitieschamber.org 
Holiday Luncheon-December- Sponsorship Range from $150 to $750
Our Biggest Event of the Year!
Approximately 200 Members and Guests Come to This Holiday Celebration at the Club at Nevillewood
Sponsorships Available: Poster Sponsor through Presenting Sponsor
Golf Outing: June- Sponsorship $150- $750
Our Summer Golf Outing with Great Conversation and Even Better Company at the Sprawling Scenic Valley Golf Course. Usually held the last Thursday in June.
Poster Sponsor through Presenting Sponsor
South West Communities Chamber Awards-October $150- $900
Poster Sponsor through Presenting Sponsor
Car Raffle : April-June: $750
Presenting , Includes Logo on all materials, and logo/coupon on all tickets
Mid-Sized Events
Administrators Day: April- $450- Presenting
Introduce Your Company at the Event, Signage at Event and Logo on all Promotional Goods
Community Outlook: May- Township Managers Panel $450 (Filled for 2019)
Introduce Your Company at the Event, Signage at Event and Logo on all Promotional Goods
Impactful Women- Quarterly $250
Introduce Your Company at the Event, Signage at Event and Logo on all Promotional Goods
Speakers Series- Monthly (fall/winter/spring) $250 per Event 
Introduce Your Company at the Event, Signage at Event and Logo on all Promotional Goods
Pop-Up Lunch- Coverage of Lunch for 15-30 people-(fall/winter/spring)(first come first serve, books 1 year in advance)
Introduce Your Company at the Event, Signage at Event and Logo on all Promotional Goods
Pop-Up Breakfast- Coverage of Lunch for 15-30 people-(fall/winter/spring)(first come first serve, books 1 year in advance)
Introduce Your Company at the Event, Signage at Event and Logo on all Promotional Goods
Mixers- Food and Drink Sponsored at Your Location  (first come first serve, books 1 year in advance) 
Outside Location Sponsor- $250.00
Introduce Your Company at the Event, Signage at Event and Logo on all Promotional Goods