Description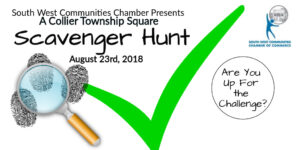 This coming August, the South West Communities Chamber of Commerce is hosting a Collier Township Square Takeover!!!!  Members and Guests will use clues and their detective skills to maneuver their way to different businesses in Collier Township Square on August 23rd. Teams who complete the business-to-business passport will unlock awards and prizes once their "hunt" is complete. 
The event will start at 5:30 p.m. at Walnut Grill where registration will be taken, passports will be distributed and the rules will be recited. Everyone must be back with completed passports by 8 p.m.. Each participating business will  have either a drink and food special or a special activity taking place at their location. 
Come and test your detective skills and participate in the first ever South West Communities Chamber Scavenger Hunt!