Description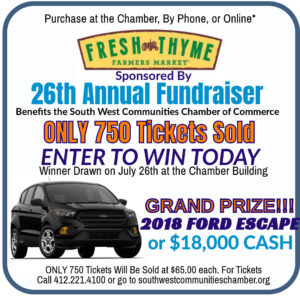 *Online & Phone Orders will Add an Additional $2 Charge for Credit Card Processing
The 26th Annual Car Fundraiser for the South West Communities Chamber of Commerce is underway! This year the chamber will be giving away a brand new black 2018 Ford Escape SUV from Wolz Wind & Ford or an $18,000 CASH Prize. Second prize is a  $250.00 Tire Gift Certificate compliments of Calabro Tire & Auto Service and Third prize includes a gift basket from the car raffle sponsor Fresh Thyme Farmer's Market coming to the Great Southern Shopping Center this summer.
Only 750 Tickets will be sold! Tickets are $65 each and can be purchased at the South West Communities Chamber of Commerce at 990 Washington Pike, via phone at 412-221-4100 or online here (a $2.00 processing fee will apply for all credit card orders).
In addition, there will be various locations that will also be selling tickets including Single Source Benefits and Asti's South Hills Pharmacy Pharmacy.