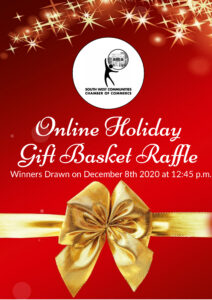 PURCHASE RAFFLE TICKETS:
https://southwestcommunitieschamber.org/register/holiday-gift-basket-raffle-for-a-cause-4/
Join the South West Communities Chamber of Commerce for this special online fundraising event! The South West Communities Chamber is disheartened to announce that we will be unable to host our annual Holiday Luncheon this year, but that doesn't mean we can't continue making spirits bright this season. 
This year, the South West Communities Chamber is bringing you an online fundraiser in conjunction with our annual meeting. Not only will we be giving away gift baskets just like we have at our annual holiday luncheon, but we will also be announcing new board members as well as returning board members for the 2021 year and even have a musical performance. That's not the best part! In our mission to help give back to the community we will also be donating fifty percent of proceeds to our Donation Drive non-profit members. Help non-profits in need and the chamber of commerce spread holiday joy by purchasing a ticket, sponsoring our event or donating direct to one of your favorite non-profits. It's all online so you can watch from the comfort of your couch. Thank you all for your continued support.
12 p.m. Introduction/Announcements
12:10 p.m. Special Musical Performance
12:20 p.m. Annual Meeting and Introduction of New Board Members
12:45 p.m. Gift Basket Winners Announced
(You do not need to be present to win)
1:00 p.m. Closing Song
$20 Per Ticket. Enters you to win all gift baskets included.
PURCHASE RAFFLE TICKETS:
https://southwestcommunitieschamber.org/register/holiday-gift-basket-raffle-for-a-cause-4/
Beneficiary Non-Profits 
Autism Society
Bridgeville Library
Bridgeville Lions Club
Bridgeville-South Fayette Rotary
Bethany Presbyterian Church
Cancer Caring Center
Carnegie-Collier Rotary
City Mission
Chartiers Center
Dress for Success (Pittsburgh and Washington)
Family Hospice
First Methodist Church
Greater Washington County Food Bank
Junior Achievement
Lions Club
South Hills Interfaith Ministry
South West Meals on Wheels
South Fayette Library
Treeline Church
Wesley Spectrum
Vitalant (previously Central Blood Bank)
PURCHASE RAFFLE TICKETS:
https://southwestcommunitieschamber.org/register/holiday-gift-basket-raffle-for-a-cause-4/