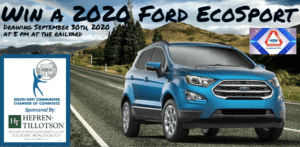 The South West Communities 2020 Car Raffle IS ON!!!!!
If you purchased a SOUTH WEST COMMUNITIES CHAMBER OF COMMERCE car raffle ticket last year you should have or will receive two tickets this week for the 2020 giveaway! Just return your payment and ticket stub to the chamber at 990 Washington Pike, Bridgeville, PA 15057, drop your payment in the black lock box outside of the chamber, pay online at southwestcommunitieschamber.org or call 412-221-4100 and we will get back to you to take a payment by phone.
If you do not receive your tickets or would like tickets please call the chamber and we will make sure you have them in hand. Thank you for your continued support of the South West Communities Chamber of Commerce!
THE 2020 CAR RAFFLE HAS OFFICIALLY BEGUN!
The South West Communities Chamber of Commerce is Celebrating it's 37th Annual Car Raffle with special thanks to Wolz Wind & Ford! This year the chamber of commerce will be giving away a 2020 Ford AWD EcoSport! Tickets are only $65.00 ($67.00 if you buy online). This is the main fundraising driving for the South West Communities Chamber of Commerce. Support the Chamber, the local business owners, their employees and the community by purchasing a ticket.
The Car Raffle Winner will be chosen on September 30th at the Railyard Grill & Taproom. Free to attend and Free food at the event! Cash Bar Available. Raffle winner will be drawn at approximately 5:00 p.m..***
***Due to COVID-19 and the uncertainty of the economic atmosphere if the cost of the car exceeds the amount raised by fundraising efforts the drawing will immediately turn into a 50/50 drawing. If the amount raised matches or exceeds the pricing of the car the raffle will continue as normal with the option to choose the car or the $18,000 cash amount.
*To avoid online costs you can mail your check for $65.00 to 990 Washington Pike, Bridgeville, PA 15017. Please include your name, phone, email and address and your ticket will be mailed to you upon acceptance of the check.
Special Thanks to our Sponsor Jamie Roach and Patricia John of Hefren-Tillotson.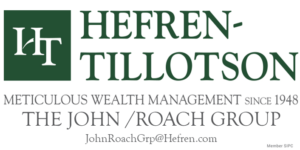 https://southwestcommunitieschamber.org/register/2020chambercargiveaway/