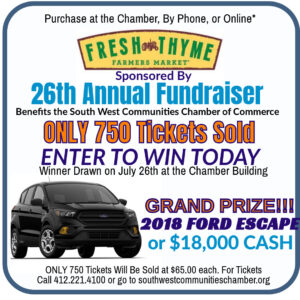 Congrats to Linda Holeva with the winning ticket 2781 for winning this year's grand prize!
2nd Place was ticket number 0598
3rd Place was ticket number 2920
Thank you all for participating in this year's fundraiser!
Thanks to Fresh Thyme Farmer's Market for Sponsoring this Raffle
Woltz Wind and Ford and Calabro Tires
*Online & Phone Orders will Add an Additional $2 Charge for Credit Card Processing
The 26th Annual Car Fundraiser for the South West Communities Chamber of Commerce is underway! This year the chamber will be giving away a brand new black 2018 Ford Escape SUV from Wolz Wind & Ford or an $18,000 CASH Prize. Second prize is a  $250.00 Tire Gift Certificate compliments of Calabro Tire & Auto Service and Third prize includes a gift basket from the car raffle sponsor Fresh Thyme Farmer's Market coming to the Great Southern Shopping Center this summer.
Only 750 Tickets will be sold! Tickets are $65 each and can be purchased at the South West Communities Chamber of Commerce at 990 Washington Pike, via phone at 412-221-4100 or online here (a $2.00 processing fee will apply for all credit card orders).
ONLINE SALES ARE NOW CLOSED. 
Or at one of our Locations: 
The South West Communties Chamber of Commerce: 990 Washington Pike
8 am to 11 am Mon- Thur or Call 412-221-4100
South Fayette: Brentwood Bank
Collier Township: Visionary FCU  & The Barber Shop at Great Southern
Upper St. Clair: Single Source Benefits & Calabro Tire