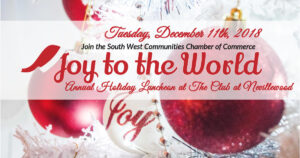 Soon the yule log will be lit, the holiday songs will begin playing softly in the background and the snow will be swirling through the air which means the Annual South West Communities Chamber of Commerce Holiday Luncheon is just around the corner. We proudly announce that this year's holiday luncheon theme is Joy to the World and will take place on Tuesday, December 11th, 2018 from 11 a.m. to 2 p.m. at the Club at Nevillewood. We hope that you will join us for this grand event and invite your co-workers and friends to celebrate with us at this joyous occasion as we come together as a community. The yearly sold-out event will feature plentiful giveaways, live music and close to two-hundred South West Communities chamber members and friends of the community. This event is open to the public. 
Tuesday, December 11th, 2018
Doors Open at 11 a.m.
Lunch 12 p.m. to 1p.m.
Giveaways and Presentations Begin at 1 p.m.
Individual and Group Tables Available
$30/$38 Until November 22nd
$35/$45 Until December 1st 
Purchase Tickets and Tables: Here
All Tickets Must Be Purchased Before December 1st
Sponsors and Giveaway (Baskets, Gift Cards, Products) Donations Appreciated
View Sponsorship Opportunities: Here
To Request a Sponsorship Form Please Email mandi@southwestcommunitieschamber.org . Tables can be purchased through the website.